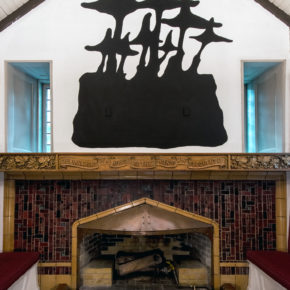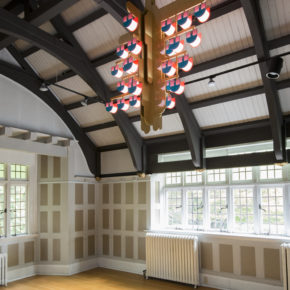 Sept . 4-  Nov. 8, 2015
Jennifer Cane and Melanie O'Brian, Curators
In envisioning a collaborative project between Simon Fraser University Gallery and the Burnaby Art Gallery, it was imperative to find a focus that addressed the entwined spatial and social contexts of both sites. In his long-standing artistic interrogation into built environments and their cultural inhabitation, Alex Morrison's work teases out the aesthetic, structural and political links between SFU Gallery and the BAG. Phantoms of a Utopian Will / Like Most Follies, More Than a Joke and More Than a Whim are tandem exhibitions that include commissioned projects among other works by the artist, as well as works selected by Morrison from the two institutions' respective collections. The linked exhibitions address the architecture and cultural histories of each site: SFU Gallery is embedded within a mountaintop university complex, while the BAG is located in a manor house that over the years has served as the home of a genteel family, a monastery, a cult centre, an SFU fraternity residence, and a public art gallery.
The Burnaby sites are both Arcadias of sorts–SFU conceived by modernist architect Arthur Erickson in the Brutalist style in 1965 and the BAG designed in the Tudor/Arts and Crafts style by R.P.S. Twizell in 1911. The city of Burnaby has developed into a network of metropolitan areas interspersed with vast tracts of parkland and green space. This is a unique feature dividing north, where our two institutions reside, from south. We are fortunate to work with Morrison on a project that addresses both of our sites and the underlying (and connected) associations they conjure.
The project has its genesis, in some ways, in a body of work Morrison began in 2007 that considered SFU, some of which is included in Phantoms of a Utopian Will.[1] Unpacking the institution's celebration of its "radical" past, Morrison's work raises questions around the university's narratives of academic freedom, activism and institutional complicity, which are further complicated by adopted and stereotyped countercultural aesthetics. 50 years old this year, SFU has re-envisioned Erickson's original ideas of community building, social interaction and interdisciplinary knowledge exchange, that drove his design for the Burnaby campus, to connect with communities in urban locales. "Engaging the World,"[2] today SFU's Vancouver and Surrey campuses intersect with their cities to weave the university into urban life rather than set it apart from the larger city. Following an older university model, the Burnaby campus remains isolated from the city, reflecting Erickson's acropolis design that was conceived of as a "remote city" that compressed the urban into a single compact site.[3]
There has been much discussion as to how SFU's architecture has determined the social and political character of the student and faculty body. However, we understand the space of the university as also socially produced–in line with Henri Lefebvre's argument in The Production of Space in that space is a social product. The political and social activity at SFU, particularly in the 1960s and '70s, can be seen in the character of the work that was brought into the SFU Art Collection at that time. Morrison's selections from the SFU Art Collection– including works by Judith Copithorne, William Featherstone, Michael Morris (who was an SFU cultural programmer in the '60s and whose work Palomar offers a key to Morrison's installation), Robert Morris and James Rosenquist–reveal a story SFU tells of its connection to modern, avant-garde and conceptual practices of the time, both locally and internationally.
The SFU Gallery was established in 1970 and is housed in a repurposed locker room within the Academic Quadrangle, subsumed within the larger architecture. Morrison's set-like MDF structures in SFU Gallery are used to hang works and direct visitors on an intuitive navigation of the gallery. These cloud-like, ziggurat-esque forms refer not only to Erickson's architecture but also to a postmodern aesthetic moment, an Expo '67-type display, and an exhibition aesthetic that is both progressive and retrograde. These structures present Morrison's new ceramics, SFU tea sets, and political cartoons that deal with the role of education, art and civic-mindedness. Anachronism, appropriation, critique and genuine affection are layered into the artist's exhibition, from the banners over the gallery doors that reference stick-on window mullions for tract houses, to the use of a protest banner as a tablecloth.
Gestures toward our often fraught relationships with both domestic and institutional spaces are embedded throughout the two exhibitions. When Morrison first visited the Burnaby Art Gallery, he was intrigued by the attic space, an area that has never been renovated and is closed to the public. The attic was used as the servant's quarters by the original owners, the Ceperleys, but it was the last tenants, the 1960s SFU fraternity,[4] who really left their mark on the place. Eight partially smashed up bedrooms and one washroom, all off one long hallway, are still covered with bright op art graffiti and cryptic slogans. One door declares the mysterious presence of "The Wizard of Aunge." As original Burnaby Arts Society member Winifred Denny described, the steps taken to evict the frat boys were met with major resistance. The boys, she writes, "had no intention of being evicted. They consequently manned the barricades, waved a flag of principle and built a bonfire on the floor of the billiard room. By December 1966, however, the battle was won or lost, depending upon how you looked at it. The Fraternity was evicted, leaving behind them a house of wildly psychedelic décor as a souvenir of their stay."[5]
The destructive impulse of the manor's last residential inhabitants brings to mind an early work by Morrison: the video Housewrecker (2002). In this 5-channel installation, handheld camera footage captures a group of male skateboarders as they trash a rental house which has been scheduled for demolition. Fueled with the nervous energy of transgression, subjects mug for the camera, breaking holes through walls and floors.
As in Housewrecker, the SFU/BAG frat boys' aggression points toward underlying forms of social (and spatial) tension. The BAG now stands as a treasured heritage gem within the city's landscape, and a fine example of Arts and Crafts architecture. The movement's early proponents promoted the integration of aesthetic appreciation and domestic life, and, as author Lisa Robertson writes, coined the notion of lifestyle as a "distinct aesthetic category and a commodity."[6] Morrison's work reflects this relocation of architectural value within social and subcultural contexts, revealing the pent-up anxieties and fantasies placed upon dwellings and institutions alike.
In the genesis of his research at the BAG, the opportunity arose to commission a new chandelier for the former "billiard room," also known as the Fireside Room, which is now used for arts programs and opening receptions. The commission replaces a (non-period-specific) medieval replica. The new chandelier work, titled A Fine Contamination, is a synthesis of historical motifs, a mixture of Arts and Crafts, Art Deco and Postmodern styles and finishes. Ceramic dish racks and dishes, produced alongside local artist Maggie Boyd, elevate the domestic mundane into the realm of the sublime object, and also reference William Morris' idealistic veneration of the local craftsperson, and his abhorrence of the "Satanic Mills" of the Industrial Revolution.
In examining the aesthetics of political protest and counterculture, and the processes by which radical impulses are subsumed within commodities and cultural consumption, Morrison's work troubles notions of authenticity, particularly when the "authentic" is absorbed into the mainstream. Phantoms of a Utopian Will / Like Most Follies, More Than a Joke and More Than a Whim queries not only historical and social narratives put forward by our institutions, but also the larger aesthetics and complexities of cultural identification.
[1] Phantoms of a Utopian Will is taken from the title of an essay by SFU Professor Emeritus Jerry Zaslove, "Silence, Counterfeit and Aesthetic Act in Alex Morrison's Vision of "Academic Freedom as Academic" – Installations of the Phantoms of a Utopian Will," Anthology of Exhibition Essays 2006-2007 (Vancouver: CJ Press, 2008), 95-111.
[2] SFU's current motto. Previously, this was "Thinking of the World" and the original motto was Nous Sommes Prêts or "We are Ready."
[3] Nicholas Olsberg and Ricardo L. Castro, eds. Arthur Erickson: Critical Works (Vancouver: Douglas and McIntyre / Vancouver: Vancouver Art Gallery / Seattle: University of Washington Press, 2006), 71.
[4] This fraternity was the first and last at SFU.
[5] Winifred Denny. The Story of a House: Ceperley Mansion to Burnaby Art Gallery, (Burnaby, B.C.: Burnaby Art Gallery Association, 1974), 30.
[6] Lisa Robertson. "Arts and Crafts in Burnaby: A Congenial Soil," in Collapse #5: Rhetorics of Utopia: Early Modernism and the Canadian West Coast, (Vancouver: Vancouver Art Forum Society, 2000), 15.